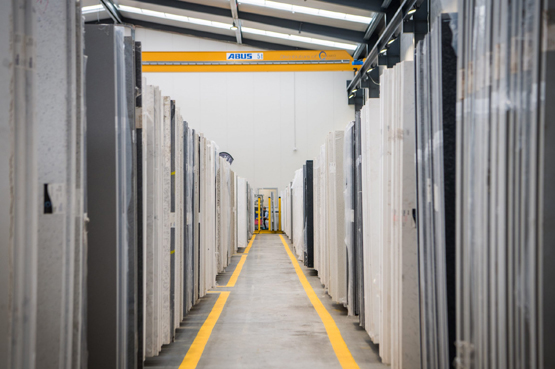 Uniquartz is New Zealand's largest supplier of quartz surfaces, our countertop slabs are certified by SGS Labs and are European Standard Certification compliant. We place a strong focus on environmentally friendly methods of production.  The market share of Uniquartz in the New Zealand domestic quartz countertop market is nearly 40%. Our sister company Universal Granite is the largest distributor of Uniquartz slabs.
Making a design choice is easy with Uniquartz. Given the combination of hard quartz stone (93%), and the binding properties of polymer resins (7%) Uniquartz is an engineering marvel. Uniquartz slabs can beat natural stones like granite and marble both in looks and strength. Uniquartz is suitable for kitchens, bathrooms and any surface that needs a non porous, tough, stain resistant product.
Uniquartz is a well-known trusted and versatile brand, with a large range of designs to suit all tastes and interior designs.

The slab sizes are 3.2 x 1.6 metres with a thickness of 20mm or 30mm. These sizes reduce waste making for an economical choice. Most patterns allow for book matching (slabs side by side that mirror each other) as well as waterfalls (where the sides of an island are continued in stone). Both are very popular design features today. All slabs come with a 10 year warranty backed by after sales service from Universal Granite Ltd, the sole distributor of Uniquartz in New Zealand.

Uniquartz has been extensively used in domestic and commercial installations, and continues to be a popular choice in the New Zealand market due to the large range, reliability, durability and ease of care. For kitchen benchtops and other surfaces this provides a practical and easy way to achieve a beautiful result.